Location
El Dorado Bay is located on the south side of Lake Cypress Springs off FM 3007 about 1/4 mile from the junction with Hwy 115. After traveling about .4 mi. on the entrance road, you reach the flagpole. Here the road forks into East El Dorado Dr. and West El Dorado Dr. which follow the shoreline on either side of El Dorado Bay.
Map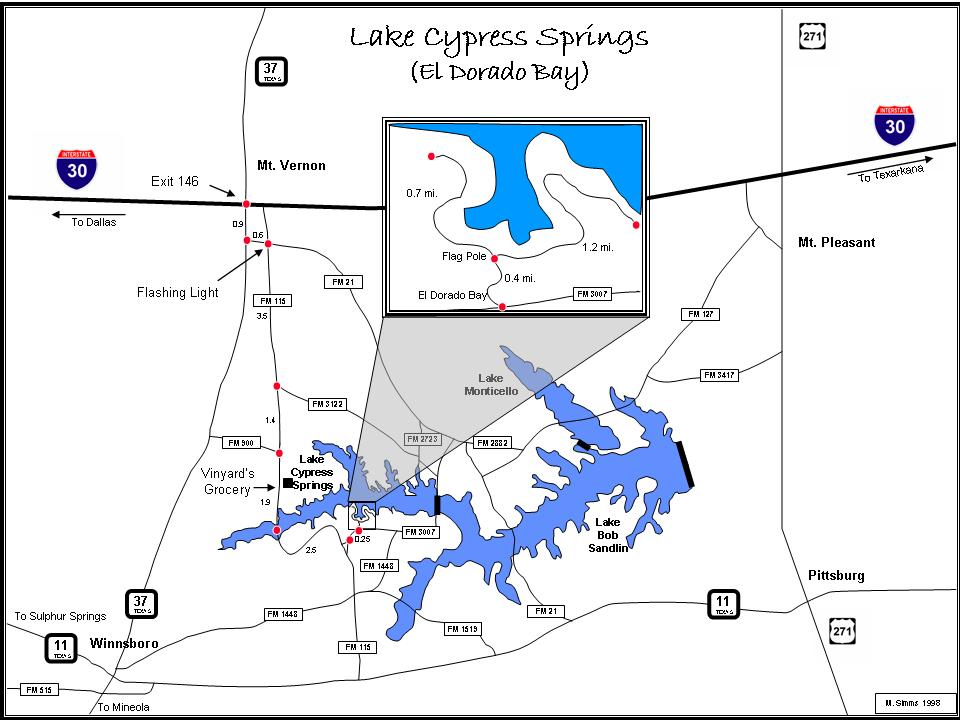 Aerial View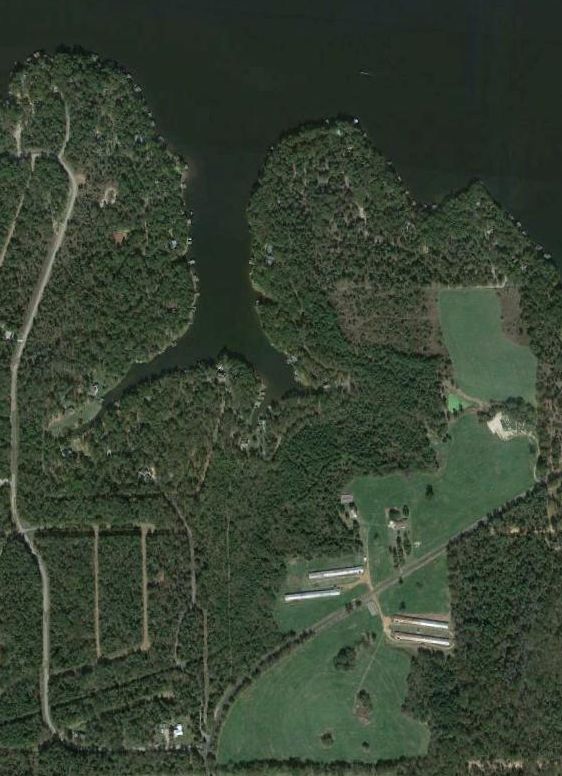 History
John Preston Travis, a successful Dallas architect, developed El Dorado Bay in the early 1970s. He had a clear vision of the type of community he wanted to create. Several small rustic chalets were built that exemplified the architectural style and natural feel that he wanted to achieve. Unfortunately, the oil embargo of 1973 and title disputes with neighboring farmers over property in east El Dorado ultimately led to bankruptcy. After many months of uncertainty, Ted Burgdorf acquired the property in 1978 and became the successor developer. Since that time,Ted and Lois have enjoyed El Dorado as much as any of its other owners and continue to make it their home. Ted's approach to developing El Dorado seemed to be pretty simple... enjoy the lake and sell folks a lot if they happen to accidentally drive by. Over the next several years, Ted was able to sell all of the available lots. Ted's personal involvement and hard work set the tone for neighbor-helping-neighbor that characterizes El Dorado today. As of 2020 we have 92 owners with a few folks owning multiple lots.
El Dorado Property Owners Association
In 1993 Ted transferred responsibility for all El Dorado common areas, including the roads, tennis court, trailer storage area, etc., to the Property Owners Association (POA). The POA is governed by a five member Board of Directors: President, Vice President, Secretary, Treasurer, and Architectural Control Committee Chairman. The Board generally meets every quarter to address any new issues and review the activities of the various standing and ad hoc committees. An annual picnic/meeting is held every year in early October to review the budget, elect officers, vote on regular and special assessments, and conduct any other business of interest to the POA members.
The POA is essentially the city government for El Dorado. It collects dues (taxes), enforces the rules (laws), and maintains the common property (streets). The biggest difference is that our "city employees" don't get paid. Fortunately, we have many talented neighbors with diverse backgrounds that volunteer their time to ensure that El Dorado continues to run smoothly and that we maintain a community that we can be proud of. For this system to work optimally, however, it is important that all of the property owners share the load. We encourage everyone to help out in any way they can. There are numerous opportunities to contribute, whether it be organizing neighborhood functions (a tennis tournament, pot luck dinner, golf cart parade, etc.), helping with community maintenance, assisting the Board with various projects, chairing or serving on a committee, providing content for the website, editing a POA newsletter, etc. Board members are elected every two years and fresh faces are always welcome. If you can help in any way, please don't be bashful. An expression that you may often hear is "Many hands make light work."
Governing Documents
The POA is a nonprofit corporation that is registered with the State of Texas. Its two primary governing documents are the By-laws and the Declaration of Restrictive Covenants (deed restrictions). These two documents run with the property's deed and each owner must agree to abide by their provisions. These, along with other policy documents, are filed with Franklin County. They can be viewed by clicking the "Governing Documents" tab on the left.
Facilities
Recreational facilities include a tennis court and basketball goal. A fenced trailer storage area is also provided and a covered pavilion is being planned. Being somewhat smaller than some of the other developments around Lake Cypress, El Dorado does not have a club house or swimming pool. On the other hand, by keeping things simple, we are able to maintain a quality neighborhood with quite modest annual fees.
Maintenance
The roads are owned by El Dorado and therefore must be maintained by the POA. Road maintenance represents about 2/3 of the POA budget. Much of the other maintenance (mowing, tree service, landscape maintenance, etc.) is performed by volunteers. The Board believes that community service is an important factor in forming a cohesive, functional, and compassionate neighborhood.
Annual Community Events
Spring Picnic
Once a year, the POA sponsors a spring social devoted entirely to food and fun. This is a pot luck affair that is typically hosted by one of our neighbors and the POA provides brats and beverages. This event is normally held on Memorial Day weekend and combined with a golf cart parade.
Annual Property Owners Meeting and Picnic
The annual POA meeting is held in early October (preferably not on Texas/OU weekend). This is also pot luck with brisket and beverages being provided by the POA or a local sponsor.
Christmas Hay Ride/Caroling/Party
A hay ride and party are traditionally held on Saturday night a week or two before Christmas. This is a family favorite enjoyed by all ages. Dan Schmeling hosed in 2021, volunteers for next year and on are needed.
Clubs
There are currently two clubs that welcome all El Dorado POA members: The El Dorado Scotch Tasting Club and the Camelot Book Club. Click on the "Clubs" tab on the left for more information.
Annual Fees
The annual fee for each lot, with or without improvements, is currently $264. Partial lots are prorated. Other than special assessments (which are rare), no other fees are charged. We like to keep it simple.